Content Marketing Strategy 2019 – The Newbie's Guide
Content marketing Strategy has existed forever. It is not a brand new idea. Also, it was not only used for internet functions, but it has been one of the utmost beneficial types of internet marketing. That's precisely our idea behind putting this article on Content Marketing Strategy – The Newbie's Guide.
Phenomenal Content Marketing connects your products or services with your market. However, not all of the articles are beneficial for this particular undertaking. The doubt is: how do you produce phenomenal Content Marketing for your business?
This guide on Content Marketing Strategy will help you to
Identify successful content for your intended market place.
Create marketable content for your website and social media.
Understand how to promote your articles on various platforms.
Common Varieties of Content Marketing Strategy
Written Articles
Composed Articles are the most relevant and accessible of all Content Marketing.
Different types of Written Contents:
Blog posts/Articles
eBooks
Social Media Posts
Whitepapers
Email Marketing/Newsletters
Written Contents are the best ways to rank on different search results Organically. It helps to generate organic SEO for your website.
Images or Photographs
Social Media, especially Instagram & Pinterest, which are all about Images, have revolutionized the entire media world. Now people share photos and infographics with ease, using their smartphones. People love to share and love to see these media posts. Quality Images attract people, and they like to spend time on the page, which results in conversion.
Apart from conventional pictures, some of the more useful forms of viewed content are:
Infographics
Comic Strips
Slides
Gifs
Quotes
Visual Art
Memes
People love images! Dont they?
Visual contents are more appealing, and hence, using them increases your chance to grab viewers attention.
Videos
We see a significant increase in the prevalence of video content. Although videos might be more resource-intensive, the rewards for making excellent videos are indisputable, especially in content domains, already soaked with easy to create content.
Some of the most engaging types of video contents are:
Vlog
Educational videos
Interviews
Webinar
Event
Presentation
Tutorial
Product Review
Testimonial
Animation
Live Streaming
The purpose is to stay engaged in vlogging, hosting webinars, and filming events. Taking advantage of the various channels like YouTube and Facebook to promote your content through videos is necessary. YouTube is helpful for longer video formats, i.e., and Facebook is useful for shorter videos, i.e., <2min.
There is plenty of relevant video content that viewers love, among which Live Streaming is proliferating.
Producing Your Content
Thriving content marketing takes skill and effort. It's not easy, but if performed well, the consequences will express for themselves.
Content marketing produces undoubtedly more Return on Investment at a lower price than other marketing strategies.
So, let's jump into precisely how to produce quality content for your business. We'll concentrate on blog content marketing strategy as it has the widespread impact.
Recognize the best possible content suitable for your Industry
Can you recognize the contents promoted in your Industry? Knowing what is trending gives you a unique perspective on the type of substances you are going to share.
When you come across any relevant piece of content in your niche, notice its framework. Consider the style, the number of images, and basic format that you see in a post; you'll be building a perception that you can apply to in your content production.
Content Idea Generator from SEO Review Tools is a fast and helpful way to know the industry choices.
You can use the Content Idea generator by merely entering keywords you want to focus and language you wish to target.
Once you have identified the Industry of your choice, let's move on to the next important aspect, that is the keyword.
Appropriate Keyword Usage
A well researched Keyword planning is a fantastic content marketing strategy.
Keywords are an essential grading aspect for search engines. Manage keywords correctly so that search engines prioritize your content in their ranking.
Better-ranked content comprises more organic traffic. Increased traffic leads to a better Return on Investment.
To assist you in finding a target keyword for your content, you can use tools such as:
After obtaining the appropriate keyword, apply it to your content. Some points you should consider before using keywords:
General Placements of keywords:
The specific match of the keyword should be in the title of your content.
Keyword should be mentioned atleast once in the introduction paragraph of your post.
Use the keyword in atleast one higher-level subheading.
Use relevant keywords in image alt attributes.
Keep a keyword ratio of 2 percent of the total word count.
Technical Placements of keywords:
Use the keyword in page URL: Its an excellent practice to match the URL with keyword exactly. So if your keyword is "the importance of a vegan diet." so the ideal URL would be yourdomain.com/the-importance-of-a-vegan-diet/.
Use the keyword in Meta description: Meta description appears below Meta Title in search engines results page. Add your keyword to meta description to make your readers get a clear understanding of your post or page.
Warning: There is a term called keyword stuffing. Just avoid that in all conditions as search engines are getting smarter by every passing day. Keyword stuffing is for bots not for humans and search engines hate bots.
Longer Blog Posts Normally Deliver Best Results
Writing longer blog posts is always better irrespective of anything else. But how long? Maybe 1200 words, 1800 words, 2500 words or more? I say the longer, the better so, minimum 2000 words is just beautiful.
But won't my audience/readers be bored by reading such a long article?
However, on the contrary, readers prefer longer posts and share them frequently.
More shares always bring more traffic, and we still want that, thats our goal, right?
While writing a longer article, writers regularly give more consideration to headings, subheadings, and pictures. Splitting the text into shorter pieces not only makes it more attractive on page, but it also makes the resulting piece to read through quickly.
Other benefits of longer articles:
Longer articles enhance the "Average Time Spent On Site." Search engines favor ranking websites that have high average-time-spent.
They increase the reasonableness of your audience, exploring your site more.
Longer posts allow you to insert more keywords. Remember that we said 2% total keyword density is optimal for your written content? A longer article involves more instances of your keyword as well as more varieties of that keyword.
Longer posts allow you to offer in-depth clarifications to clients, providing them more reason to acknowledge, like, and believe you.
So, You should always make your articles long and deep.
Quality Always Supersede Quantity
For years numerous publishers assumed that you had to publish articles frequently to get in Google's good graces. Media outlets set a standard of releasing large amounts of posts, gaining massive traffic.
Meanwhile, it came to SEO, and the widely trusted belief was that your website required lots of content for Google to have loads of reasons to rank in its search results. And you needed to write new, fresh content tirelessly to manage high ranks.
Amidst a high demand for large volumes of content, the quality of content gradually depreciated. Posts that were nothing but keyword dust and click-bait headlines became all too prevalent on the internet.
The online panorama had evolved a lot over the last few years. Expressly in the world of SEO, we've seen a notable transformation towards quality and depth of content rather than volume and frequency.
Advertising Your Content
Even before composing your content, you want a plan to market it. Seldom this will indicate quoting influencers or clients, other times; it may mean colluding for writing or discussion. At the very least, you may wish to plan to promote content on social media, with paid and organic posts, and via email to your readers. It is not sufficient to make content and to hope it'll get found on its own.
Make your content strategically sharable.
More significant than selling your content is having your readers promote it for you. This is considered to be the best Content Marketing Strategy. Therefore using images, infographics, and other sorts of visuals (such as charts and graphs, screenshots, and gifs) throughout your content will encourage the shareability.
In addition, you'll also want to apply the subsequent tactics to secure the immense level of social engagement:
If you're not giving people clear and straightforward ways to share your content, they won't.
If possible, you'll want to customize how to share the content for each network. Optimizing the share for each system boosts the likelihood of click-through and return traffic. Maximizing also includes writing messages that resemble the feeling and mood of each network. However, never use someone else's tweet or post to promote your Twitter handle or Facebook page
Tweetable quotes
Making simple tweetable quotes is the lowest possible barrier to entry for someone to share your content.
To achieve all of this, we use ShareThis — a social sharing website that enables us to do all of the tips discussed above to maximize our content's shareability.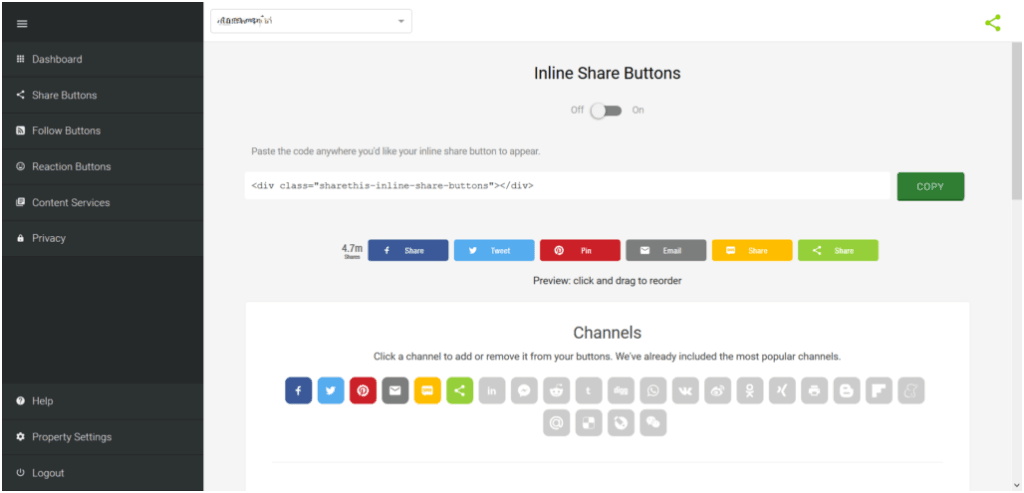 Conclusion:
Content Writing is the most exciting form of marketing, and if done correctly, produce amazing results.
If you are waiting to begin a new project, check out our post about engaging content topics that will resonate with your readers.